What We Do
The Swim for Smiles Foundation, based in Chapel Hill, NC, was co-founded by Gary Kayye and Laura Gondek. Our mission is simple: Kids Helping Kids. We do this through special multi-sport events such as triathlons and Swim-A-Thons where all our money raised goes to the NC Children's Hospital. But, the Swim for Smiles Foundation is not just one or two people – it's a community of people involved in making our events successful and creative each and every year.
But, questions abound about how we started the Swim for Smiles Foundation, why we started it and how we want to expand it outside of NC. Co-founder and board member Gary Kayye addresses those questions with a Swim for Smiles FAQ below:
FAQs
What is the story behind Swim for Smiles? How and when was the organization created?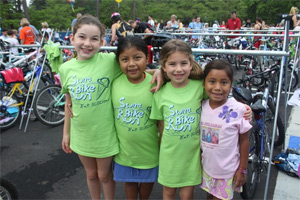 When my daughter Annabelle was four and a half years old, she became sick with some weird unidentifiable virus. We moved from doctor to doctor and hospital to hospital. After spending nearly nine and a half weeks in and out of the UNC Children's Hospital – and seeing over 30 doctors, having three spinal taps, two MRIs, countless CAT scans and all sort of neurology tests — she was finally diagnosed with something called ADEM – Acute Demyelenating Encephalomyelitis. ADEM is an autoimmune disease of the brain that usually occurs following a viral infection or could even appear spontaneously.
It presents itself very much like MS (multiple sclerosis) and Annabelle did eventually display those symptoms because ADEM produces inflammatory lesions in the brain and on the spinal cord. After her nine weeks of constant headaches, fever and total body pain, she was finally diagnosed by Dr. Tennison – the Director of Pediatric Neurology at UNC Hospitals. Following months of a regiment of steroids and rehab, Annabelle was healthy again and turned to swimming (on her doctor's advice) as a way to deal with her newly discovered Asthma.
Following that traumatic experience and actually experiencing for ourselves the total lack of differentiation between adult patients and children at UNC Hospitals (this was all before there was a separate NC Children's Hospital at UNC Hospitals), I decided to try to make future experiences better for future kid patients in the Children's Hospital. So, leveraging my swimming contacts from the two swim teams my daughter was on in 2005, Laura Gondek (a fellow swim parent) and I founded the Swim for Smiles Foundation -– a Chapel Hill-based nonprofit that features swim-oriented athletic events – and kids – to raise money for kids that, unfortunately, have to use the Children's Hospital. Our first event was a Chapel Hill vs. Durham swim meet and since then, we have added an annual youth triathlon (the only one in North Carolina that's USA-T sanctioned), swim-a-thon and an annual Wacky Relay Day for kids.
For more about our events, click here.
Who have been some of the major players involved with the organization since its inception?
Our very first event was a dual swim meet that featured a team from the Chapel Hill Summer Swim League and one from the Durham Summer Swim League that raised money for both UNC's and Duke's Children's Hospitals back in 2005. Dr. Ellen DeFlora, a pediatrician in Raleigh (and swim parent, too) and I organized that event together and the kids had a blast. They raised money selling t-shirts and swimming in the meet. Ellen had great vision for that event as it brought together two rival town's swimmers in a non-competitive environment to raise money for kids at both hospitals.
Since that original event, we've formed a Board that oversees all our activities and is very hands-on. Our board includes Rich DeSelm, the Head Swimming and Diving Coach at UNC. Mrs Gondek and myself as well as year-round and summer-league swim parents. But, what is extra special on our board is that it also includes kids – we have four kids that are in middle and high school from right here in Chapel Hill who help with everything from designing our logos, handing out event flyers to running and volunteering in our races. We have, in my opinion, the best possible mix of people a nonprofit could ever hope to have.
What is its mission and focus?
Our mission is to feature swim-oriented athletic activities for local kids to participate in and have fun doing so and as a byproduct raise money for the NC Children's Hospital. We are focused on "Kids Helping Kids."
Do all funds raised from events go toward the hospital, or a portion? How does that work? How much has been raised to date?
The Swim for Smiles Foundation is a 501(c)(3) nonprofit. We have NO fulltime or parttime employees and all our board members as well as all our volunteers (race directors, accountants, graphic designers, etc) all work pro bono.
No money raised is used to pay any volunteers.
All the money we raise is donated to the UNC North Carolina Children's Hospital here in Chapel Hill, NC through the N.C. Children's Promise program. We have helped fund books for the playrooms, wireless internet access for the patients and new equipment for pediatric care. Through 2011, the Swim for Smiles Foundation has raised well over $100,000 for the NC Children's Hospital.
We are proud of our relationship with UNC CHildren's Hospital and many of our volunteers and participants actually work at the hospital.
Are there similar Swim for Smiles branches in other counties in the state, or is this the only one of its kind?
We are the first, but we have a plan to franchise it, of sorts, nationally working with USA-T (USA Triathlon). We hope to have two other Swim for Smiles Youth triathlons going this summer in Florida and Maryland! Our only requirement for these other events – as we expand beyond NC, is that all the money be given to help kids – "Kids Helping Kids".
Tell me a little more about the Swim for Smiles Youth Triathlon
The Swim for Smiles Youth Triathlon is open to kids ages 5-19. There are two courses: one being a longer distance course, and the other a shorter distance course.
We also allow a limited number of relay teams to compete. These teams can be made up of kids of any and all ages.
It's not unusual for our triathlon to draw at least 500 kids — sometimes more! The 2011 event drew over 800 participants making it the largest kid's triathlon in the USA!
For more information about the Swim for Smiles Triathlon, click here to visit the triathlon section on our website. That's where you can find information about registration, race results and upcoming events.
How do you believe the organization as a whole makes an impact on the hospital and community?
I look at it completely backwards, probably. We are creating and running events that are fun for kids, challenging, yes, but one's where they are performing and achieving individual triumphs by finishing a race like a triathlon. And, the byproduct of that is the money that goes to the NC Children's Hospital. It really is "Kids Helping Kids" as the kids are doing all the work by participating in our events – and having a ton of fun doing so. Can you imagine the feeling of a 7-year old running through the finish line with their parents yelling for them and cheering them on as they pass through – knowing they just swam, biked and then ran to finish? And, to top it all off, a SFS volunteer is draping a medal over the head as soon as they cross that line.
It's awesome!
What are the organization's goals moving forward?
We need to grow outside North Carolina. We want to leverage summer-league and year-round swim teams to form Swim fro Smiles Regional branches all over the country. It's a lofty goal, I know, but it's the vision I have – a totally volunteer foundation offering races all over the country to kids. And, as I said earlier, as a byproduct, they raise money to help other kids.
Is there anything you'd like to add that I haven't asked about?
Yes, we have an annual event that we took over back in 2005 (it used to be known as Swim for Life) – it was an event originally started 26 years ago by UNC's former head swim coach, Frank Comfort. The event needed some new-life so we were asked by the Chapel Hill Summer Swim League to revamp it and we morphed it into a Wacky Relay Day for kids.
In addition to the Wacky Relay Day being an opportunity for kids that swim in the Chapel Hill Simmer Swim League (CHSSL) to swim in their Championship Pool one week before Summer Champs, this is a great way to culminate a summer season of raising money with some fun (and Wacky) relays.
At the beginning of the CHSSL season (mid-May), each CHSSL Team will be given a Swim for Smiles Foundation GOAL Thermometer that will be hung at each team's pool and will be used to graphically demonstrate the amount of money raised as the summer swim season progresses. Each club sets their own top-end goal and measurement standards.
The Swim for Smiles Foundation will supply all the materials and prizes to award teams (and individuals) as they reach their goals. In addition, SFS will provide pledge envelopes that can be used by the swimmer all season to keep track of their financial pledges and to collect the money they raise. These envelopes will all be turned in to SFS at the Wacky Relay Day.
At the actual Wacky Relay Day, the CHSSL swimmer will start the day with a team warm-up swim with each respective team as a way to familiarize themselves with the Koury Pool (a pool that is 12-feet deep – compared to the 3-5' summer-league pools). Then, the fun starts with relays.
Money in all Swim for Smiles events is raised through a number of special swimming events and relays each summer, including Parent/Child relays at the dual meets, a Wacky Relay Day, triathlon entry fees, sponsorships and, of course, private donations from individuals that support our cause. In addition, teams that participate in any Swim for Smiles events are encouraged (and are offered from the Swim for Smiles Foundation) to sell Swim for Smiles logo'd event t-shirts, water bottles, and mesh pool bags/backpacks. All proceeds benefit the Children's Hospitals.
The Swim for Smiles Foundation 501(c)(3) has an effective date of exemption of June 23, 2006. We are already a recognized non-profit whose proceeds benefit the N.C. Children's Hospital, and thus, all donations should be tax deductible (consult your tax attorney). Our Fed. tax ID number is 20-5186388. Click here for the tax form for your records.
To become involved, please check out our volunteer page. To donate, please send checks made out to Swim for Smiles to:
Swim for Smiles Foundation
210 Old Barn Ln.
Chapel Hill, NC 27517
All donations are tax-deductible. For more information, please see our donations page.